Wednesday Lady Chapel Prayer Group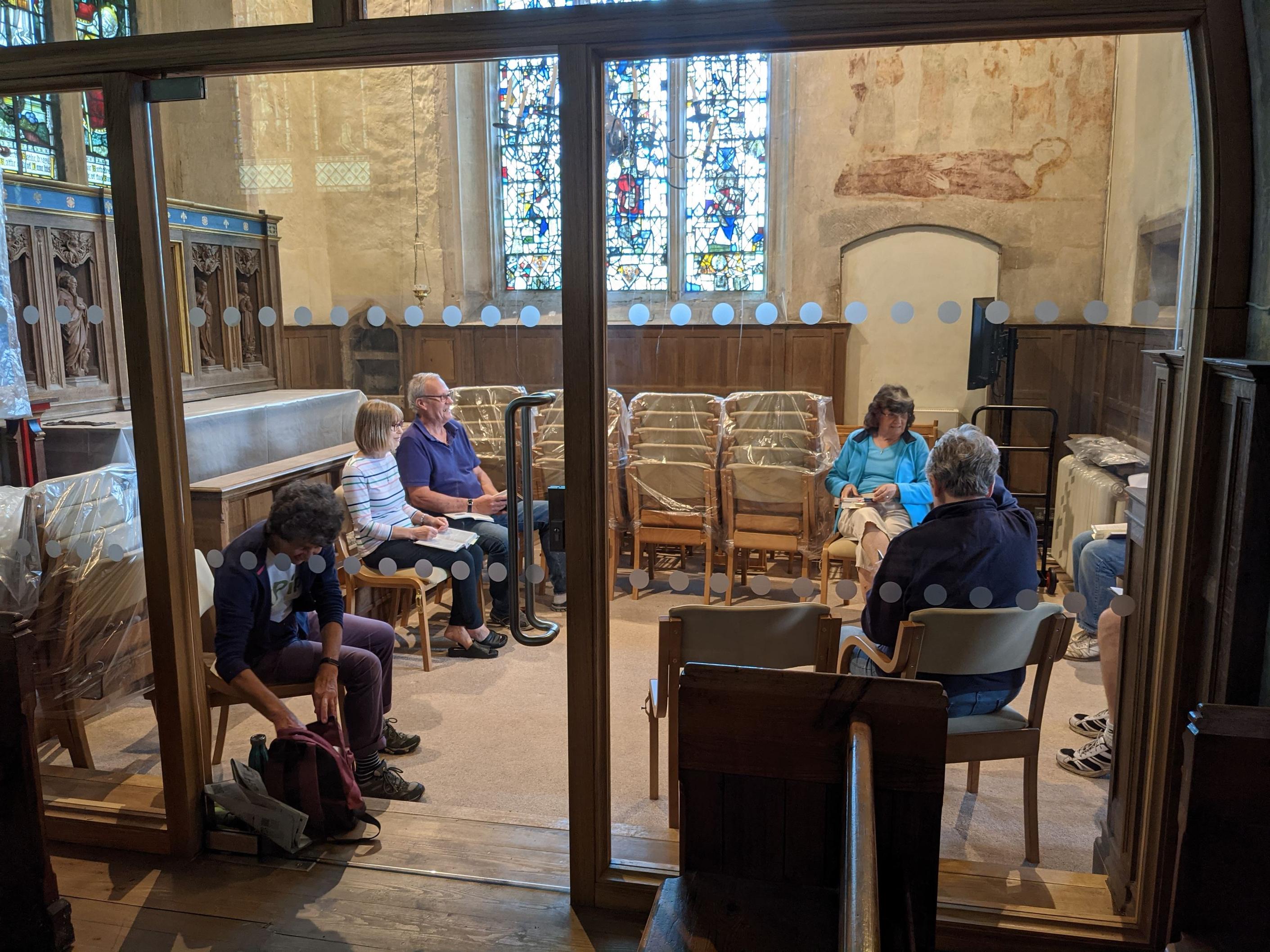 We have now returned to the Lady Chapel, in greater comfort and enclosed. What a beautiful setting to hold a conversation with The Almighty!
We use the Bible, letting different scripture passages guide and inspire us as we pray for the needs of our church family, our community and the world.
Is this something you might feel called to do, pray with your brothers and sisters, in His house? Why not come and listen?

Each Wednesday at 5pm for NO LONGER THAN an hour.
We meet in the Lady Chapel on Wednesdays to start at 5.00pm and finish no later than 6.00pm. Newcomers are welcome at anytime.
The two books we are using currently are: 'Praying for Your World' and 'Praying for Your Church', both by Rachel Jones. The table below indicates the passages being used each week and who is leading us. If you are down to lead and can't make it, please try to organise a swap.
(See below table for the Advent resources)
Date

Lead

Your World

Your Church

3rd Nov

David M

P59 Children in Care

Deuteronomy 10 v 14 - 22

P 59 Children in my Church

Psalm 78 v 1 -7

10th Nov

Bob

P63 Praying in the Wake of a Tragedy

John 11 v 1 -43

P63 Our Young People

1 Timothy 4 v 10 -13

17th Nov

Chris

P67 A place affected by war or terror

Psalm 56

P67 Not yet Christians

Acts 17 v 10 - 12

24th Nov

Paul

P71 A place affected by natural disaster

1 Kings 8 v 37-43

P71 Mercy Ministries

Acts 6 v a1-7

ADVENT*

Themes -

Christmas Blessings

Themes -

Christmas Events/People

1st Dec

Marie

Advent 1 – Hope (1a, p2)

Advent 1 – Prophecy (1b, p7)

8th Dec

Dave N

Advent 2 – Peace (1a, p3)

Advent 2 – Bethlehem (1b, p8)

15th Dec

Sandra

Advent 3 – Joy (1a, p4)

Advent 3 – Shepherd (1b, p9)

22nd Dec

Jane

Advent 4 – Love (1a, p5)

Advent 4 – Angel (1b, p10)

29th Dec

BREAK

Date

Lead

Your World

Your Church

5th Jan

David M

P75 A place unreached by the Gospel

Romans 10 v 1,9-15

P75The elderly

Joshua 14 v 6-15

12th Jan

Bob

P 79 A place where Christians are persecuted

2 Corinthians 4v 7-15

P79 For another Church

Philippians 1 v3-11

19th Jan

Chris

P 83 A post Christian country

1 Corinthians 1 v 18-2v 5

P 83 Our Mission Partner

1 Thessalonians 2 v1-12

26th Jan

Paul

P 87 A religious country

Acts v 8-23

P 87 Churches far away

1 Peter 4 v 12-19

2nd Feb

Marie

P 91 A Missionary

2 Timothy 1 v 7-13

P 91 The unreached

Matthew 9 v 35-38

… to be continued ….

New books needed,…………………………
*Advent
Material for the Advent prayer sessions can be found on the following link, Appendices 1a and 1b http://www.jesuswalk.com/advent/advent-sunday-candle-readings.pdf