DAC Award 2021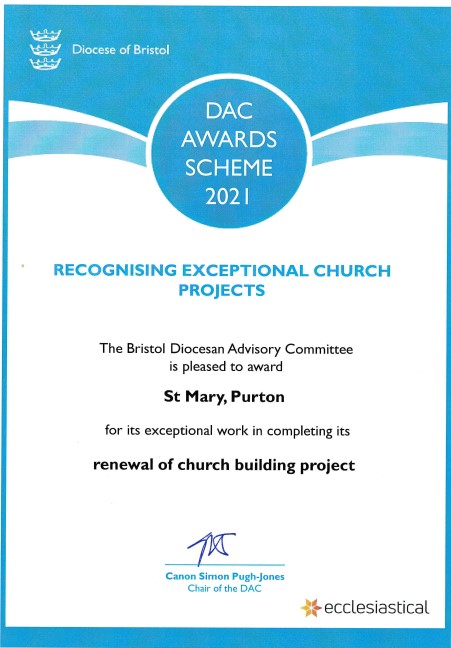 Following completion in 2021, the St Mary's Renewal Project was recognised as exceptional by the Bristol Diocesan Advisory Committee (DAC). The award was presented at a ceremony in June 2022. In thanking the DAC, Dave Nettleton, Chair of the St Mary's Renewal Management Team, said:
Our project was the Renewal of a large Medieval village church. If you want to know more about what we did, see the pictures on the display boards
Firstly, let me thank the DAC for recognising the success of our project with this award. Also, I'd like to take this opportunity to thank them for their encouragement and advice along the way, particularly their Chair, Simon.
So, what made our project a success?
Firstly, clarity and ownership for its purpose right from the start, which was agreed by our Annual Parochial Church Meeting as long ago as 2009. We found it is the how that can divide, not the requirement for change.
Secondly, making use of the gifts of our church members, for example for leadership, management of large projects and finances, and for fundraising. I give thanks to all in the Purton church family who contributed to making this project such a success.
Thirdly, winning hearts and minds for the how. We were open about our ideas as the project design developed and listened and responded to feedback, both from our community and from experts. This was important to achieving the required approvals but also to enable the sacrificial giving required to fund it.
And finally, and most importantly, prayer. If it is God's project – it will succeed. Also, we found that through prayer, God gave us encouragement to persevere when times got tough.
Let me finish by saying that, although we now have a fantastic building for worship, there is still much to do for the building to achieve its purpose set right back in 2009, that is for mission, to make Christ Known to all in Purton.