Christian Aid Week 2022

Latest News about Christian Aid Week 15 - 21 May 2022
Out Now! - THE QUIZ
£2/copy - details of how to get your copy here.
Sunday May 15th - 9.00am - BREAKFAST
We plan to start Christian Aid Week with Breakfast in St Mary's from 9am. Please come and join us…and let us know that you are coming so we can cook enough bacon and warm enough croissants!
Sunday May 15th - 10:30am - CHRISTIAN AID SERVICE
And after Breakfast , at 10.30, there will be the Christian Aid Service. We are pleased to welcome a guest speaker this year - he is Michael Mosslmans, who is Head of the Humanitarian division of Christian Aid and has been working for the charity for over 27 years. He believes that the central ambition of Christian Aid's humanitarian policy and practice is to put people affected by crisis in the driving seat of their own response and recovery. Please come and listen to him at 10.30 on May 15th. It would be wonderful to have your support.
Saturday May 21st - CAKE TRAIL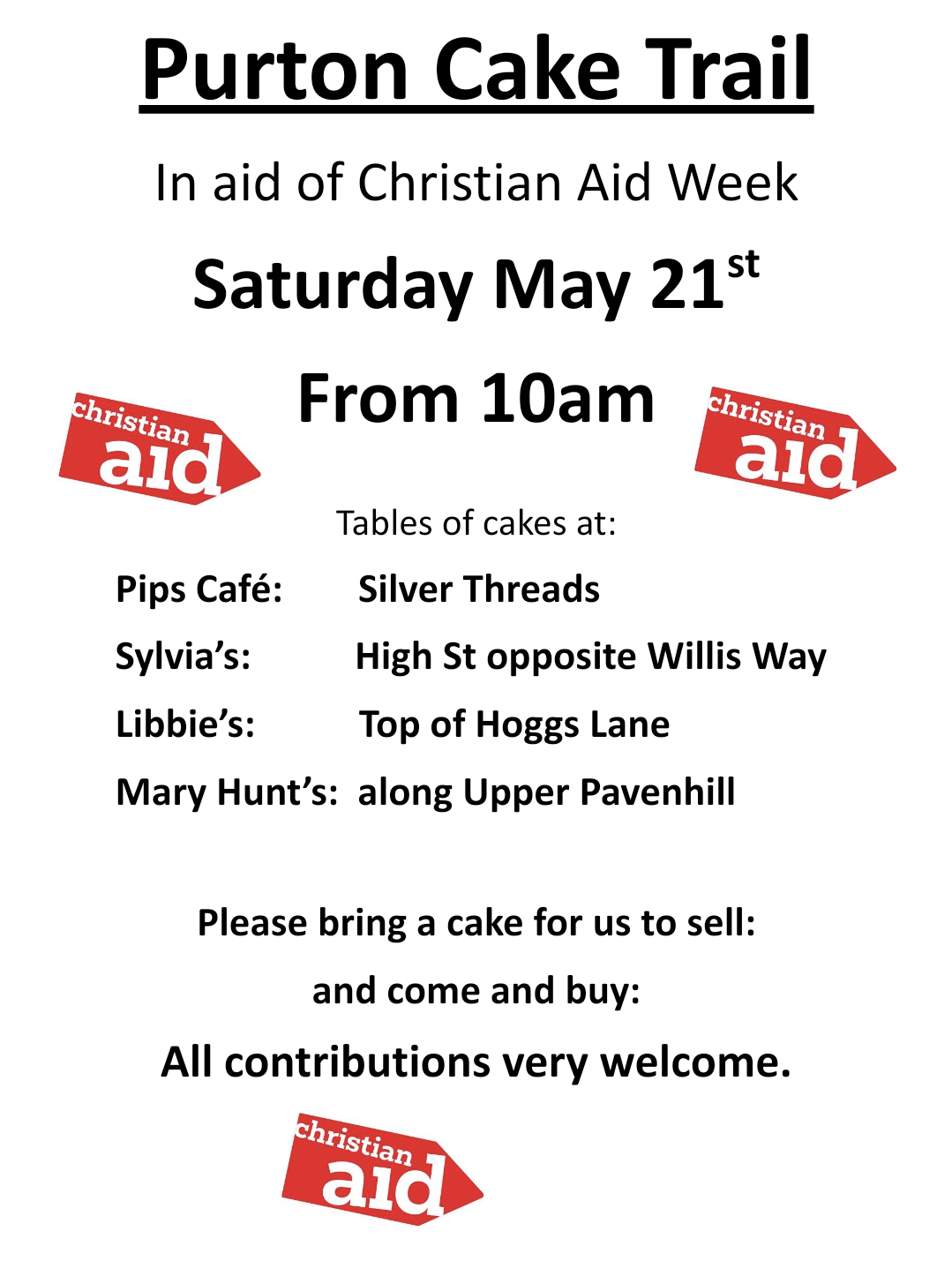 All Tuesdays and Wednesdays in May - MAHARAJAH OFFER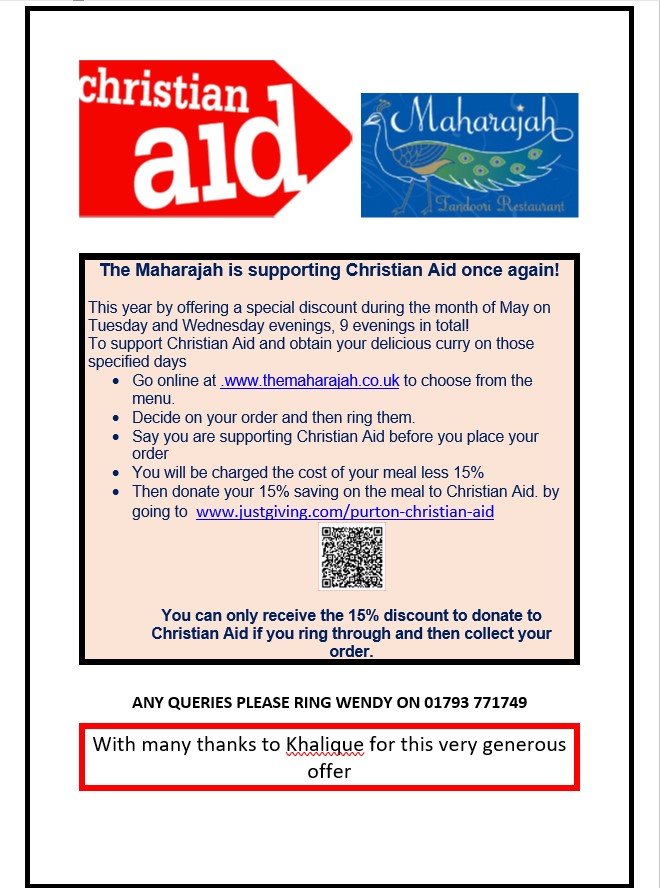 All week, 15-21st May - CHRISTIAN AID COLLECTION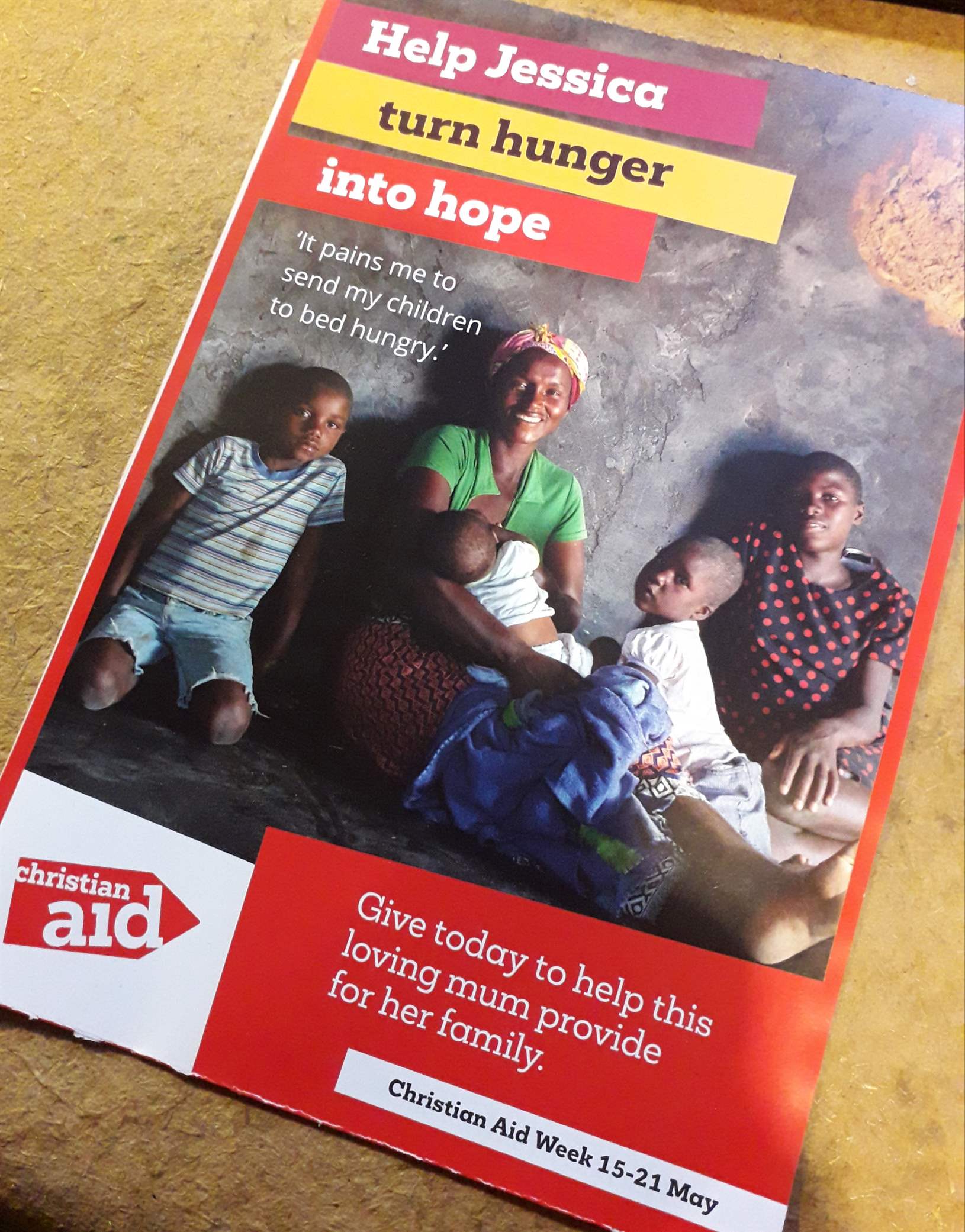 As always, please give generously to Christian Aid fund-raising during the week - our efforts are based on the needs of people in Zimbabwe,
You can make donations using one of the little red envelope - if you don't get one delivered you can pick one up from the bag on the gatepost at 20 Hoggs Lane. Please return to the address given on the envelope. Alternatively, go straight to our Just Giving address: www.justgiving.com/purton-christian-aid
Libbie 01793 771018 Mary 01793 770505

Purton's Christian Aid Week Team calls out for volunteer help
Christian Aid Week will be here in a month's time and we need your help please! There is so much to do, especially with all the fundraising for Ukraine as well as for all the other disaster areas we are trying to support. And the horrors in Ukraine have an added impact on countries already suffering. For example the lack of oil, for cooking…much of which comes from Ukraine's sunflowers…means that families in Zimbabwe are struggling with cooking, baking, surviving. So we are turning to generous Purton once again. Please could you help us with two main activities for Christian Aid at this stage.
The first is that we are planning another Cake Trail around the village, on Saturday May 21st, at the end of Christian Aid Week Could you bake for it, and come and buy cakes to support the Trail. Already we know there will be a table of cakes at Sylvia's in the High St, at Libbie's in Hoggs Lane, at Pip's Cafe in Silver Threads and in Upper Pavenhill. Any more? We would love another couple of tables if anyone would like to volunteer .
The other subject I need to mention is the little red envelopes. In the past we have had wonderful people going out delivering envelopes in their area of the village and then going back to collect them up again later…quite a task! Now, because of covid, we are asking only for the envelopes to be delivered. There is NO NEED to go back and pick them up! The hope is that people will return the envelope themselves to a suggested address**.
So if you feel able to deliver to a couple of streets near to your home please do contact Libbie and we'll see if we can cover most of the village as we used to in pre-covid days. There will also be an opportunity to use e-envelopes as well…but that will be explained another day!
Thank you folks: Libbie 01793 771018 and Mary 01793 770505
**We are making sticky labels to go on the back of each envelope to tell people where to return their envelopes, so they can be collected up. And also we shall include our Just Giving address: www.justgiving.com/purton-christian-aid so people can give donations that way, rather than using the envelope, if preferable. I shall also put a bag of envelopes on my gatepost too, as I did last year (20 Hoggs Lane). I was surprised at how many people took one, put their money in it and then popped it through my letterbox In fact last year we still managed to collect over £1,100 in envelopes even though we didn't use them very efficiently…we just handed them out whenever we could. Let's hope we'll do even better this time. And we'll only deliver them to homes where we feel sure there will get a reasonable response.