Service Questionnaire
St Mary's Church Purton – Sunday Services
Please see the letter that came with this Questionnaire to explain what we are aiming to do.
It is our hope and prayer that as a whole Church Family we will be able to 'gather around' the opening of the Renewed Church building as an opportunity to invite in and show the people of Purton the love and grace of Christ.
If we are to look out to our wider community then we may need to make some changes to the services. After Covid restrictions are lifted, we are hoping to offer a balance of pre-Covid services and a series of new services/events aimed at growing the Church as illustrated below. This will mean the breadth of pre-Renewal/ pre-Covid services will be maintained but the frequency will be reduced to allow time and opportunity for these new services.
We would like to reassure you that we aim to maintain the breadth of service styles so that every Sunday there are normally two services (including at least one Traditional Service and one New Service - with Communion available in at least one of them)
Proposed balance of services (for a 5 Sunday month)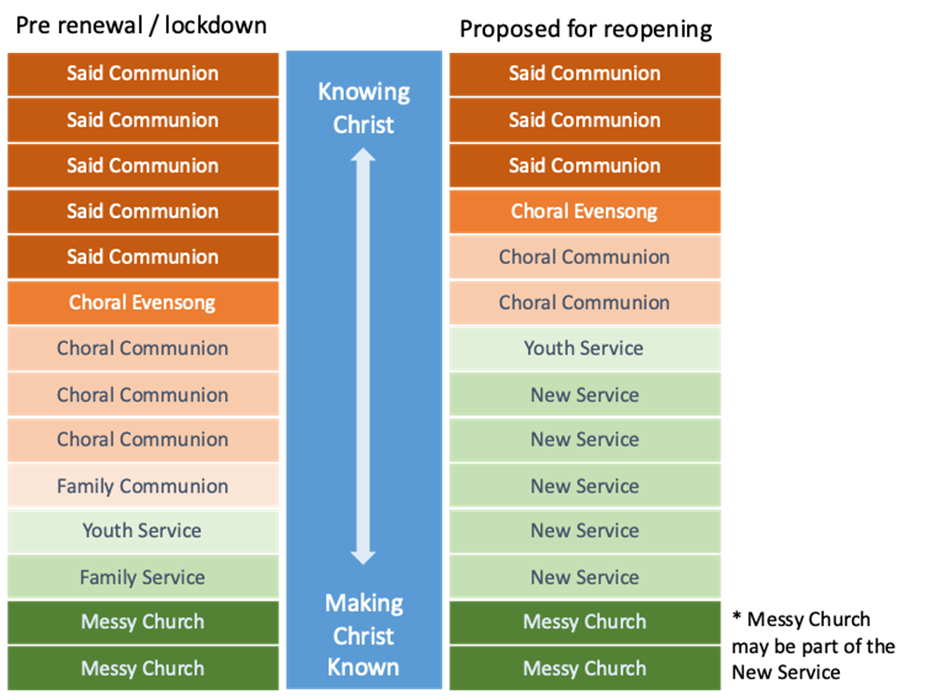 Please download a copy of the questionnaire and return after completion by Wednesday 31st March 2021 through the letterbox at The Vicarage, or 33 Restrop View (Sandra) or 25 Glevum Close (Berta).
Alternatively, it can be completed online at https://tinyurl.com/p6jt4usa
12 March 2021