Christmas cards of St Mary's Church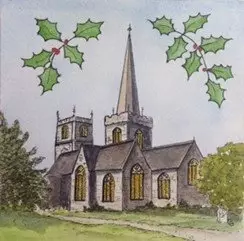 Looking for Christmas cards? Have a look at these two new designs showing views of St Mary's Church by Christine Gill. The legend inside each card reads:
'May the joy and peace of Christmas be with you'
£1.50 each, payment on receipt (p&p extra if relevant). Please order direct from Christine Gill. Receipt of cards will be a week to ten days after ordering.
Profits to the Church Renewal Fund
Card A
Card B